If you don't see images in this message, click "Display Images" or the equivalent.
Having trouble viewing this email? Click here
Receive this as a forward? Get the Nooner in your e-mail box
THE NOONER for September 15, 2015
Subscribe to The Nooner to access exclusive election analysis | Follow @scottlay
REMINDER: For a limited time (before 10/1/2015), if you become a paid subscription now, you get a four-month extension to extend through election year 2016. Existing subscribers will also be getting a four-month extension. By becoming a subscriber, you get access to the exclusive election analysis on AroundTheCapitol.com, as well as back-end data (voter reg, candidate lists, and spreadsheets of state and federal campaign finance reports).
DISTRICT UPDATES
AD59 (South LA): added Executive Director/CEO at Florence-Firestone/Walnut Park Chamber of Commerce Efren Martinez (D)
MONEY MATTERS: Education groups propose initiative to extend Prop. 30 income taxes until 2030 [Christopher Cadelago @ SacBee] - "The new "School Funding and Budget Stability Act" would boost income tax rates on couples earning more than $500,000 a year for 12 years, with the proceeds deposited into an account to support K-12 schools and colleges. The quarter-cent sales tax increase would not be touched, and expire as planned in 2016."
FIRE MATTERS: Governor authorizes additional $12.5 million to fight wildfires [Phil Willon @ LAT] - "The money, which comes from the state's special fund for wildfire suppression, will help state firefighters battling two of California's most treacherous blazes: the Valley fire in Lake and Napa counties, which has burned more than 61,000 acres and led to one death; and the Butte fire in Amador and Calaveras counties that has burned more than 71,000 acres."
The tally of lost homes between the Valley and Butte fires is believed to be 768. Absolutely devastatng.
CONTROL, WE HAVE A PROBLEM: Sierra Nevada snowpack is much worse than thought: a 500-year low [Monte Mirin @ LAT] - "Snowpack is a key factor in California's water supply: In a normal year, melting Sierra Nevada snow provides the state with one-third of its water. Another third is pumped from underground aquifers, and the rest comes from rivers and reservoirs."
GROWTH: Number of California lobbyists grows over past decade [Jim Miller @ SacBee] - "The number of lobbyists has steadily increased over the years. Businesses, unions and trade groups have a stake in what happens in Sacramento. Local governments have steadily added to their lobbying ranks as local finances more and more flow through the Capitol. And a crackdown by the state's political ethics agency has prompted more registrations."
In 2005, there were 1,002 regisstered lobbyists. This year there are 1,760.
PLAYING THE DONALD CARD: State politicians grab at Trump's coattails, seeking reflected attention [Cathleen Decker @ LAT] - "California politicians, meantime, were scrambling to grab onto Trump in whatever fashion possible, attaching themselves to the man who is utterly in control of the political ecosystem."
Those would be negative coattails. One such example is Gavin Newsom's animated video posted yesterday attacking Trump's immigration plan.
SAUSAGE-MAKING: How the 'right to die' bill made it to a vote was wrong, but Brown should sign it anyway [LAT Editorial] - "State lawmakers shouldn't have subverted their own rules to allow a "right to die" bill to pass Friday during a special session on healthcare for the poor. Nevertheless, Gov. Jerry Brown should sign it, no matter what he thinks about how it reached his desk."
GOLDEN DELICOUS: Apple Says iPhone Pre-Orders Are Beating Last Year's Pace [Katie Benner @ NYT] - "Apple said Monday that global pre-orders for its latest iPhones were on track to beat last year's sales of 10 million devices in the first weekend, which was a record for the company."
UMBRELLA ELLA EH EH EH: Rain drenches Southern California, wettest day of the year in downtown L.A. [Veronica Rocha and Joe Sernz @ LAT] - "No, it wasn't a dream. Parts of Southern California awoke to rain Tuesday as remnants of former Hurricane Linda brought moisture and cooler temperatures to the region."
And, unfortunaly, most of that rain flowed right into the ocean. I guess these numbers are good for people's lawns. Just wow.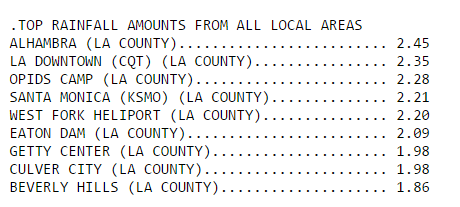 TRUMP: Why does he keep including Japan as taking our job? If anything, they have been creating jobs in America as the auto companies are manufacturing more cars here than ever.
NINERS: I hate the new uniforms, but I sure liked last night's game.
#CAKEDAY: Happy birthday to UC Center's A.G. Block, San Bernadino CCD trustee Don Singer, and fundraiser Dan Weitzman.
---
**CLASSIFIEDS**
Outreach Coordinator
You will be working on the ground talking to people who are impacted by the health care system every day to help them understand changes in health care. As outreach coordinator, you will create events to provide unbiased educational information to groups of dual eligible beneficiaries (and those that work with beneficiaries) on the California Coordinated Care Initiative. This is a time limited, contract position - lasting through June 30, 2016. Compensation is an hourly rate, commensurate with experience. Please visit www.harbageconsulting.com for more information.

Office Space for Rent
Quiet location two blocks away from Capitol. Share space with a professional services firm. Up to three offices in six-office suite (2,300 sqft). Conference room, copy/printer room, reception, kitchenette, janitorial, parking. Terms are negotiable. 1510 14th Street, Sacramento. (916) 444-7158.

Kaiser Permanente is hiring a Senior Legislative Representative to represent the interests of Kaiser Foundation Health Plan/Hospitals, the Permanente Medical Groups, our members and the communities we serve in California. To learn more about this role go to KP Careers website (kp.taleo.net/careersection/external/moresearch.ftl?lang=en) and ype in job # 399705.>
Account Executive, Redwood Pacific Public Affairs. 2-4+ years' experience. Requires strong communications, writing, research skills to support high-profile public affairs and ballot measure campaigns. Competitive salary/benefits. Send cover letter and resume: marie@redwoodpacific.com
Administrative Support Coordinator I, Center for California Studies, CSUS. Support of the Capital Fellows Programs (Assembly) and Center (LegiSchool). $2,846-$4,484. University, state government knowledge preferred. Fulltime position. To apply: www.csus.edu/about/employment/. American Disabilities Act/Equal Employment Opportunity.
THERE'S MUCH MORE TO EFFECTIVE LOBBYING THAN LEGISLATIVE ADVOCACY. Get the total picture when you attend Capitol veteran Ray LeBov's introductory Lobbying 101 and advanced Lobbying 201 seminarOctober 1-2. Lobbying 101 covers the Legislative process and Legislative advocacy; Lobbying 201 explores time-tested principles / best practices in the additional critical areas of Budget, Regulatory Agency and Executive Branch advocacy plus Media Relations. $250 each. Essential for lobbying firm principals / staff, organizations / agencies that employ lobbyists, newcomers to the profession. Information / registration: www.capitolseminars.net or 916 442 5009.

Planned Parenthood of Northern California (PPNorCal) is currently seeking a full-time Senior Public Affairs Officer, San Francisco. Responsibilities include working closely with the VP and Director of Public Affairs to manage government and community relations and grassroots activities in San Francisco and Marin Counties, with some secondary work in Sonoma and Mendocino Counties. The Senior Officer will also provide key support to the PPNorCal Action Fund to help elect pro-choice officials, promote advocacy and volunteer activities in targeted candidate and issue-based campaigns. Visit us at www.ppnorcal.org for job details or submit resumes directly to careers@ppnorcal.org. Salary is DOE.

Planned Parenthood of Northern California (PPNorCal) is currently seeking a full-time Public Affairs Officer, Concord. The Public Affairs Officer will work closely with the Director of Public Affairs to manage government and community relations and grassroots activities in Contra Costa and Napa Counties, with some secondary work in Solano County. The Officer will also provide key support to the Planned Parenthood Northern California Action Fund to help elect pro-choice officials and promote advocacy and volunteer activities in targeted candidate and issue-based campaigns. Visit us at www.ppnorcal.org for job details or submit resumes directly to careers@ppnorcal.org.Salary is DOE.

Meet Secretary of State Alex Padilla, Fmr. Rep. Ellen Tauscher and Contra Costa's Democratic Leaders on September 25: The Democratic Party of Contra Costa County fights on the front line to keep California blue. Rally for 2016 with hundreds of voters, elected officials, labor/business leaders and activists at our 2nd Annual Roosevelt Awards Dinner. Join us as our party honors Secretary Padilla's groundbreaking voting rights reforms, Rep. Tauscher's tenure as U.S. Undersecretary of State, and the Contra Costa County Democratic Party Hall of Fame. RSVP FOR THE DINNER AND VIP RECEPTION HERE or contact Jerome Pandell for more information.

for $30/week for up to 100 words. Email scott@scottlay.com.
TOP HEADLINES ON AROUNDTHECAPITOL.COM AS OF 12:00PM